Rio Grande County Public Health
Our Office hours are as follows

Monday – Friday 8:00 a.m. to 4:00 p.m.
925 6th Street Room 101
Del Norte, CO 81132

Phone: 719-657-3352
Fax: 719-657-2286
Rio Grande County Public Health is an approved MPX vaccine provider and we are administering the vaccine (Jynneos) Call for eligibility screening!
SLV Public Health Emergency 24/7/365
through Colorado State Patrol Dispatch
719-589-5807
Current Services
There are 4,000 chemicals in cigarettes, 43 of them are CANCER-CAUSING agents. Your unborn baby receives those poisons every time you smoke.
If you are currently pregnant and smoking or just recently quit smoking and pregnant, you are eligible for the Baby & Me Tobacco Free Program. There are no income requirements.
Pregnancy is the perfect time to quit smoking. When you avoid tobacco you:
DECREASE your risk of a miscarriage
HELP baby's lungs grow strong
IMPROVE baby's overall health
HELP to ensure your baby is born on time and not born prematurely
IMPROVE your baby's birth weight
LIVE LONGER, HEALTHIER, AND HAPPIER WITH YOUR BABY
When you successfully complete the program requirements, you can receive 12 monthly diaper vouchers as a reward for remaining smoke free for baby's first year.
TRY US OUT! THIS IS AN AWARD WINNING PROGRAM THAT REALLY WORKS
Made possible by grants from the Colorado Health Foundation and Rocky Mountain Health Plans
Contact Dianne Koshak RN at the Rio Grande County Public Health Agency for more details -
(719) 657-3352
Every baby in the San Luis Valley can have a safe crib thanks to the partnership between San Luis Valley Health, All of the SLV Public Health Departments and Cribs for Kids.
San Luis Valley Public Health Departments applied in unison for child fatality prevention funding to purchase Graco Pack 'nPlay Portable cribs through Cribs for Kids. Since 1998, Cribs for Kids National Infant Safe Sleep Initiative has been making an impat on reducing the rate of infiant sleep-related deaths due to accidental suffocation, asphyxia, or underterminded causes in unsafe sleeping environments. Cribs for Kids, headquarterd in Pittsburg, has a mission to prevent thse deaths, by education and by providing Graco Pack 'nPlay portable cribs.
Give our office a call for more resources and information 719-657-3352
Rio Grande Prevention Program is dedicated to helping families and youth avoid the life-altering consequences of underage alcohol consumption and drug use in our county, to learn more about our group and how to get involved, visit www.RGPP.org or Facebook.
Vision: Healthy Children, Families, Schools, Communities, and Cultures
Mission: Partnering to create a county-wide environment conducive to safe, healthy, and productive living through education, awareness, and community support.
Rio Grande County Public Health is part of the San Luis Valley Prevention Coalition Network, a regional structure to coordinate and support local substance abuse prevention efforts in the San Luis Valley. See more about us at www.SanLuisValleyPrevention.org or on Facebook.
If you want to be more involved contact Jennifer at 719-657-3352
Environmental Health is an organized approach to addressing environmental issues that impact the health of the population. Three of the main elements of the environment that are monitored include: the food we eat, the air we breathe, and the water we drink. These factors, and many others, are overseen in order to maintain conditions in which people can enjoy good health. Environmental Health is one of the major components of Public Health.
The Regional Environmental Health Program began in Alamosa County and has expanded to include Rio Grande, Costilla, Conejos, Saguache, and Rio Grande counties; This program is directed by the San Luis Valley Public Health Partnership.
Contact Environmental Health at (719) 587-5206 or here regarding:
Opening a Retail Food Establishment
Environmental Health Questions
Environmental Health Complaints
Forms and additional information can be found at Alamosa County-Regional Environmental Health
Vaccines are recommended for all children and adults to prevent getting and spreading diseases. Vaccines are especially important for children and people with chronic conditions, who are more likely to develop complications from certain vaccine-preventable diseases.
What vaccines do you need? Take this quiz to find out!
Children's Vaccines
Children under age 18 must be accompanied by a parent or person who has the authority to give consent. Please bring your child's current immunization record with you to your visit. If you would like to obtain your child's immunization record, contact your child's school, primary care provider, or Rio Grande County Public Health.
The Vaccines for Children (VFC) program provides vaccines at low-to-no cost to eligible children 18 years of age and under, following the ACIP/AAP/AAFP pediatric immunization recommendations. Eligible children are those who are on Medicaid, have no insurance, who are Native American/Alaska Natives or who are underinsured (insurance does not cover vaccines). As participants in the VFC program, children without health insurance can receive vaccines at $10 per shot or a donation. No child is turned away for inability to pay.
Visit the Center for Disease Control and Prevention (CDC) for more information on children's vaccinations. The recommended immunization schedule for infants and children and the schedule for preteens and teens is available on the CDC website, as well as answers to common questions.
Adult Immunizations
Adult routine immunizations are offered for school, work, immigration and routine purposes. Medicaid is accepted. Most private insurances are accepted. Please bring your insurance card to every appointment, so that we can assess eligibility.
The Immunization Clinic has low-cost options for adults with no insurance. Call our office for more information or go on the CDC website to see a recommended schedule for adult immunizations.
Travel Consultation Service
Rio Grande County Public Health specializes in offering comprehensive travel health consultation, education, immunizations, and expert advice for individuals, families, and groups traveling to exotic and exciting locales throughout the world. See our Travel Clinic page for more information.
How to Schedule an Immunization Appointment
Our Immunization Clinic is open every Tuesday. Please call our office to schedule an appointment. We will do our best to give our clients prompt and friendly care. If Tuesdays are inconvenient, alternative appointments can be scheduled other times during the week.
We would be happy to assist you in locating immunization records, compiling records from multiple sources, and assessing your immunization status so you know that you are up to date on all recommended vaccines for your age and lifestyle.
We accept the following insurances:
Anthem BlueCross BlueShield
Colorado Access
Rocky Mountain Health Plans
SLV HMO/Colorado Choice Health Plans
CHP+ (Child Health Plan Plus)
Medicare - Part B
Medicaid
Contact Rio Grande County Public Health to schedule an appointment or for more information -
(719) 657-3352
Traveling?
Rio Grande County Public Health Agency will help prepare you for healthy and safe international travel!
If you are traveling internationally for work, to visit friends or family, or for vacation, traveling abroad can put you at risk for diseases that are common in other regions of the world. To improve your chances of staying healthy, the International Travel Clinic at Rio Grande County Public Health Agency provides individual consultation and immunizations before traveling to that long awaited destination. Our services can help protect you from diseases such as Hepatitis A or B, Yellow Fever, Typhoid Fever, and Malaria.
Please contact our International Travel Vaccine Consultant at
719-657-3352
Rio Grande County Public Health International Travel Brochure, PDF International_Travel_Brochure_PDF.pdf
Check Out These Great Apps!
TravWell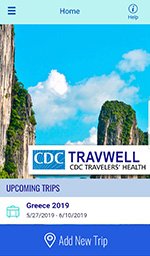 CDC's TravWell app helps you plan for safe and healthy international travel. Build a trip to get destination-specific vaccine recommendations, a checklist of what you need to do to prepare for travel, and a customizable healthy travel packing list. The app also lets you store travel documents, keep a record of your medications and immunizations, and set reminders to get vaccine booster doses or take medicines while you're traveling.
Key Features
Authoritative recommendations from the Centers for Disease Control and Prevention
During-travel features available offline (no data connection needed)
Fully customizable to do list and packing list
Emergency services phone numbers for every destination
Easy to use and fun
To give feedback about this app, contact CDC-INFO.
Can I Eat This?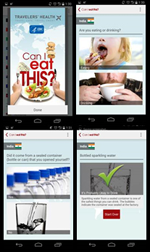 Montezuma's revenge, Delhi belly, or travelers' diarrhea—whatever you call it, it can ruin your international trip. Help prevent travelers' diarrhea by using CDC's Can I Eat This? app. Select the country you're in and answer a few simple questions about what you're thinking about eating or drinking, and Can I Eat This? will tell you whether it's likely to be safe. With Can I Eat This?, you can be more confident that your food and drink choices won't make you spend your international trip in the bathroom.
Key Features
Authoritative recommendations from the Centers for Disease Control and Prevention
Access recommendations offline (no data connection needed)
Easy to use and fun
To give feedback about this app, contact CDC-INFO.
Alzheimer Support is a free service that assists Rio Grande County families who have loved ones with Alzheimer's disease or dementia. Through our free search tool and database of Alzheimer's care facilities, families in need of care for their loved ones can locate licensed care homes and communities in the Rio Grande County area that are best equipped to provide care for their loved ones. For more go to their website Here
New COVID-19 & Monkeypox Information
Rio Grande County Public Health has been working to help our community be as ready as prepared as possible for coronavirus/COVID-19. For more information visit slvphp.com
Please, see below our PHD Situational Awareness status info report on COVID-19 and MonkeyPox data/info.:

1. COVID-19 daily data summary for Friday, May 12, 2023. In Rio Grande County, Colorado, community level is at LOW per CDC data updated 5/4/2023. Link: https://www.cdc.gov/coronavirus/2019-ncov/your-health/covid-by-county.html .

CDC recommendations at this Low level: Stay up to date with COVID-19 vaccines, including recommended booster doses. Maintain ventilation improvements. Avoid contact with people who have suspected or confirmed COVID-19. Follow recommendations for isolation if you have suspected or confirmed COVID-19. Follow recommendations for what to do if you are exposed to someone with COVID-19. If you are at high risk of getting very sick, talk with a healthcare provider about additional prevention actions.

RGC Case Summary for May 12, 2023:

0 New case; 1

current active cases

0 Coming out of Isolation today; 0 Hospitalization; 0 Fatality
1 current confirmed outbreak - Monte Vista Estates
0 Students new case; 0 active case
MonkeyPox (MPX) A-Z Info update: CDPHE Links for the general public and health care provider's information are shown below:
SAN LUIS VALLEY MPX TASK FORCE
The SLV Healthcare Coalition (SLVHCC) has formed a task force to ensure that local providers are well prepared and that monkeypox response is well coordinated in our region. There will be a newsletter shared through the healthcare coalition network to provide updates on recommendations and guidance, and SLV-specific information.
TESTING: The SLV Healthcare Coalition's MPX task force is working with local healthcare systems to identify where testing will be available locally. CDPHE has identified testing sites and the vaccination request form (link below).
If testing with the CDPHE Lab, prior approval is required. Call 303-692-2700 to get approval.
VACCINE:
RGC Public Health is an approved MPX vaccine provider and we are administering the vaccine (Jynneos) to high-risk populations as a PEP (and in some few cases as a PEP++ and PrEP) Call for eligibility screening.
MPOX Cases in Colorado (405). One (1) in RGC and One (1) in Alamosa County. (2/10/23)
Here are our most updated Public Health Orders. 5/13/2022
Public Health Orders and Guidelines:
○ Current Colorado public health orders are listed at
covid19.colorado.gov
○ The 15th Amended PHO 20-38 was extended through May 13, 2022.
The order continues to require:
● Face coverings in some settings based on CDC Community Levels and in some instances vaccination status,
● Hospital data reporting, and
● COVID-19 vaccination for state contractors working in residential care settings.
○ Colorado's Roadmap to Moving Forward was issued on 2/28/2022.
Vaccinations:
○ Current booster recommendations can be found here:
CDC.gov
○ Vaccine providers, including mobile vaccine buses, are authorized to give boosters in accordance with CDC recommendations.
Treatments:
Individuals who test positive for COVID-19 and have mild to moderate symptoms, symptoms that began within the past few days, and are at risk of getting very sick from COVID-19, are advised to call their health care provider as soon as possible to ask about treatment. Treatment for COVID-19 is not a substitute for vaccination.
Rio Grande Public Health Objectives
Vision
Rio Grande County is the healthiest place to live, learn, work and play.
Mission
To preserve, promote and protect the health of all people in Rio Grande County
through equitable prevention, partnerships and education.
Values
Prioritize primary prevention and population-based approaches
Make data-driven, community-informed decisions
Respect the diversity of the individuals and communities we serve
Be an accountable and responsible public steward
Encourage our divers, passionate staff to grow their skills and pursue their interests
Collaborate with partners to improve social determinants of health
Advocate for health in all policies
Focus locally and connect regionally
Innovate for creative and high-quality information, services and solutions